Mirion's Mobile ISOCS™ Large Container Counter (MILCC), a flexible waste assay system designed for production
DATE: Wednesday, January 27, 2021


11:00 am - 12:30 pm EST
This webinar presents Mirion's most versatile and flexible gamma waste assay system, the Mobile ISOCS Large Container Counter or MILCC™ system for short. An overview of the MILCC system and popular options will be given, highlighting the inherent flexibility when ISOCS systems are combined with NDA 2000™ and Genie™ software. Following a question and answer session, the remaining time will be spent with a demonstration using a virtual machine (VM) of a MILCC system.
---
Presented by
Richard Machado
Richard Machado has a degree in health physics from the Georgia Institute of Technology and 30 years of health physics, gamma spectroscopy, and NDA experience. The last 20 years he has worked for Canberra, now Mirion Technologies, in NDA, technical services, training, and is currently a member of the measurement services group.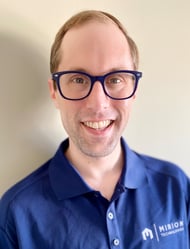 Greg somerville
Greg Somerville has a degree in nuclear engineering from the Pennsylvania State University with eight years of experience in commercial nuclear power, nuclear manufacturing, and NDA. He joined Mirion a year and a half ago, working in Oak Ridge, Tennessee at the TRU Waste Processing Center, focusing on both Operations and Expert Analysis of gamma spectra.


Who should attend:
Nuclear facility waste management groups

(Deactivation) Decontamination and Decommissioning sites
Nuclear material characterization
TRU and Low-level waste producing facilities
Any sites producing radioactive waste